Are You Eating These Two Unhealthy Diet Foods?
By Coach Josh
Under Expert Tips, Nutrition Tips, Weight Loss Tips
I've got a special guest article today from Laura CaJacob. She is a Registered and Licensed Dietitian in my hometown of Austin, TX. She specializes in weight management, healthy cooking, family meal planning, and disease management through food.  I'll be back after the article below to share more fat loss tips and strategies… enjoy!
ARTICLE <<<<  Are You Eating These Two Unhealthy Diet Foods?
By Laura CaJacob
When considering buying a product, on what do you base your decision?  One place you should not look is the front of the package.  The front label on a packaged food was created to persuade you to buy it with clever marketing.  The company paid an advertising expert to design the colors, words and facts to appeal to you specifically.  It is their only chance to persuade you into choosing their product over the one next to it.  Don't be fooled!
Where should you look then?  Flip that food over and read the parts of the label that is highly regulated by the U.S. government: the nutrition facts and the ingredients.  Below are a couple of examples.
Muscle Milk Light Bars
The front of the package definitely has some appeal.  The words "muscle" and "light" definitely draw people in who are interested in losing fat.  Often times, the purpose of a bar is to fight hunger, so "smart hunger control" makes sense to me.  It also has zero lactose and a solid 15g of protein.  This bar looks like a winner.
Not so fast.  This basic snack bar has a whopping 56 ingredients, 4 of which are varieties of hydrogenated oil.  Partially hydrogenated oil, also known as trans fat, has been linked to increased risk of heart disease, cancer and other health issues.  Trans fat is so bad for you that its use is actually banned in California and New York City.
Better Choice: Kind Bars – These bars are not only delicious, but they are made primarily of nuts, fruit and honey with absolutely no trans fat. (Another great choice is an organic trail mix with a variety of nuts and a little dried fruit.)
Special K Cereal
Special K does an incredible job at specifically marketing to women who want to lose weight.  They have various campaigns that inspire females to get started with weight loss by making a healthier choice.  The graphic of the tape measure, with the promise of 6 pounds is tempting, but don't fall for it.  Special K, unfortunately, is not a healthy choice.
Sugar in the form of "corn syrup", "honey", "molasses" or just "sugar" is listed 16 different times in the ingredients.  Special K Fruit & Yogurt has more sugar (15g per cup) than the original sugary breakfast cereal Trix (13g per cup) which most of us would not choose as a healthy option.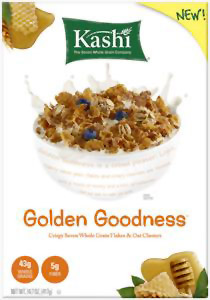 Better Choice: Kashi Golden Goodness Original – With just 6g of sugar per cup plus all natural ingredients, this is the better alternative for a flaky cereal. (Slow cooked oatmeal is also a great alternative and is one of my favorite flat-belly foods!)
In general, stay away from processed foods that specifically market to an audience who is trying to lose weight.  Instead, choose real foods that need no marketing because they speak for themselves.  Everyone knows an apple is healthy; it doesn't have to say "Low calorie, Low Fat, Low Sodium" on the peel in a florescent color.  Aim to mostly buy foods without a package.  If you do buy something in a package, make sure to carefully read the nutrition facts and the ingredients.
<<< Josh's Comment
I totally agree with Laura that all of us need to focus on buying more foods that aren't pre-packaged. When you do, you will see a big difference in your health and weight without focusing on calorie counting or extreme diets.
I hope you enjoyed this article. Make it a great day!
With Energy,


Coach Josh
Note:
Please do not post comments with order questions or problems as they may not be resolved in a timely manner. For a quicker response, please email us at [email protected].